Ultimate Guys Trip: Iceland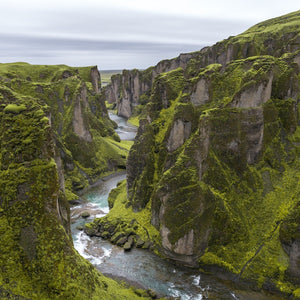 Leave your golf clubs behind, because the kind of driving we're doing is on four wheels and through some of the most insane landscapes you'll ever see. Iceland is the best guys trip you've never taken and we're pretty sure you'll agree in about two minutes.
We know vacation days can be few and far between, but we recommend no fewer than seven days in Iceland to hit the major sites, and 11+ if you're looking to circle the whole island.
We've crafted this Iceland guy's trip to hit the major must-see's plus a bonus or two. Here's what you need to know, see and do:
WHAT TO KNOW:
The weather WILL be unpredictable. In fact, the unpredictability of the weather is just about the only thing you can predict. Do yourself a favor and pack some reliable rain gear. You'll thank us later. And don't be surprised to get all 4 seasons in a day (or an hour).
You should rent a car, and make it 4WD. You can get away with a "normal" car, but after you see some of the more difficult to reach locations you'll definitely wish you had a car that can take on the bumpy roads and small streams. This also allows you to explore beyond the common tourist destinations like the Blue Lagoon and Golden Circle. Be prepared, because car rentals are more expensive in Iceland than we are accustomed to here in the States.
You will want to keep your tanks full with a debit card. Because of Iceland's quick-to-change weather and far distances between towns, you're going to want to play it safe when it comes to gas. It's also VERY important to note that Iceland's gas stations require cards with a pin. If you've got a US credit card, that means you most likely would need to use your debit.
The water is gooooood. You won't hear us advise against drinking the water, because Iceland has some of the best in the world. You may even get to drink it straight off a glacier (more on that in a few).
You will sound stupid. There's nothing easy or intuitive about the Icelandic language. While you won't have issues communicating with residents, you will struggle pronouncing ... well, everything. A few location-based ones you should know, courtesy of h2g2.com:
Ísland

= Eess-land - the Icelandic for Iceland

Reykjavík

= Rake-ya-veek - the capital

Snæfell

= Snigh-fetl - Snow Mountain

Vatnajökull

= Vatna-yuhktl - the big glacier that gives Iceland its name

Geysir

= Gace-ir - the original Geyser

Þingvellir

= Thing-vetlir - the site of the original Icelandic parliament

Eyjafjallajökull

= Ay-ya-fyatla-yuhktl - that pesky volcano

WHAT TO SEE:
Reykjavik. The country's largest city and capital deserves a day of exploration. It's the perfect transition from flight to the fjords. For the best view, pay the few bucks to climb Hallgrimskirkja for a view over the city. Head down to the water to take in the Harpa concert hall and then snag a hot dog from  Baejarins Beztu Pylsur—it's basically an Icelandic delicacy.
Golden Circle. While it's one of the more touristy parts of Iceland, it's still full of incredible sites. They are all close enough that you can set out from Reykjavik and see the whole circle in one day. The circle includes Gullfoss Waterfall, the Geysir geothermal area and Þingvellir National Park—it's located in a rift valley. Throw on a wetsuit and snorkel between two tectonic plates (in the clearest water you've ever seen) in the national park. End your day near Seljalandsfoss.
Fjaðrárgljúfur. Yeah, you go ahead and try to pronounce it. While you're doing that we are going to explain how amazing this canyon is. Rain, shine, fog, it doesn't matter. Note to visitors, please be safe and let common sense guide you. People are getting closer to the edge of the canyon and they're doing it for the 'gram. PSA over.
Northern Lights. This isn't under your control, but to give your crew the best chance to see the sky dancing visit Iceland between September to mid-April (some experts say November - February for even better odds). Get away from the light pollution of Reykjavik, give yourself a few days in case the skies are cloudy and be patient. There's a lot more to Iceland than the Northern Lights, but damn if they aren't beautiful.
Kirkjufellsfoss. While most only head east from Reykjavik, we recommend you head west about two hours. The Snaefellsnes Peninsula has a wild, rugged landscape, and is home to Mt. Kirkjufell and Kirkjufellsfoss PLUS the Hnappadalur Valley hot springs (beats the Blue Lagoon any day), the iconic black Budir church, Lóndrangar Basalt Cliffs and Hellnar with its beachside cafe.

WHAT TO DO:
Climb a Glacier. Grab your crampons and get climbing on a Skaftafell Glacier Tour. It's right on your way and will probably fit everyone's adventure and activity level. Your experienced guides will take you high up on Skaftafellsjökull, giving you a great perspective of the changing glacier while reminding us of the importance of taking care of our earth. It's sad to say, but we don't know how long this glacier will last.
Cruise the Bergs instead of the Burbs. Do yourself a favor and book a Zodiac cruise for the Jökulsárlón Glacier Lagoon. The Zodiac boats get you closer to the icebergs and the glacier than larger cruise-style boats can (plus they're faster and get that blood pumping!). You won't believe the size of some of the glaciers and we're pretty sure you'll never forget flying by these massive icebergs.  
Eat Hákarl aka Fermented Shark. It's the national dish of Iceland and to many outside of this beautiful country, it's so bad you can't NOT eat it. Then, wash the delicacy down with some Brennevin or "Black Death." This schnapps is made from fermented potatoes and caraway. They're a perfect, terrible pair, but also a pretty good travel story.
Live the Game of Thrones. If you've followed our directions above, you would have already hit up a few G.O.T. locations (i.e. Kirkjufell and Þingfellar National Park). We'd be remiss if we didn't include Reynisfjara beach, near Vík on Iceland's southern shore. Known as Eastwatch-by-the-Sea in the show, it is the "easternmost castle of the Night's Watch along the Wall, located on a grey, windswept shore by the Bay of Seals." This incredible black sand beach features imposing walls of basalt columns—of course we had to climb. After you do your best Jon Snow impression, head a few minutes further to Vík for the night or just a bite.
We think that's plenty to get you started on planning a guys trip to Iceland, but feel free to comment with questions and we will do our best to help you out.
Bless!
(That's Icelandic for goodbye! You're welcome!)